DETECTION OF SKEWED, ROTATED OR TILTED SHEETS HAS NEVER BEEN THIS ROBUST!
AVOID WELDER DAMAGE LEADING TO EXPENSIVE DOWNTIME WITH INNOSEN'S NEW AND IMPROVED SENSORS.
✅ TOUGHER AND STURDIER CABLES
✅ ARMS FOR WIDER RANGE OF SHEET SIZES
✅ BETTER WINDOW DESIGN FOR EASIER CLEANING
The best thing to help you achieve your customers' agreed standards is a trustworthy measurement system.
The IS416 Sheet Skew Measurement System gives you the power to set your acceptable range of skewness in the system so sheets that rotated too much will be detected before they cause problems in the production process.
Examples of the problems include misaligned margins on sheets that cause weld wire breakage and costly downtime.
It is mounted in between the coater and the oven, at the exit of the coater and detects sheets that skew out of tolerance. It could also be mounted at the infeed of the slitter.
This measurement equipment also provides statistics on your sheet skew to help you determine and improve your process' capability.
"I have had experience with this system now for many many years and still believe it to be the best solution available for Skew and Position measurement…"
✅ Less maintenance due to cable replacement
✅ Longer arms to accommodate wider sheets
✅ Better window design for easier clean up
✅ Provides statistical data for sheet skewness
✅ Prevents expensive downtime
✅ Avoid customers complains due to badly welded cans
✅ No weld wire breakage
✅ No spoilage and extra expenses
✅ Time-saving (no manual calibration needed!)
Self-calibrating
Self-learning
User definable alarm and reject levels
LCD-display
RS232 – output
Accuracy better than 0.2mm (0.008")
Range ±5mm (±0.2" )
Not dependent on the vertical position where sheets go through the U-shaped detectors (see SPECIFICATION)
Selectable language
Suitable for line speeds up to 150m/min in leading edge mode, 100 m/min. in trailing edge mode
+24 VDC Supply
Specifications

Heads

Power supply:
Camera and Trigger Heads are powered from the Controller
Temperature:
0 to 45°C (32 to 113°F)
Humidity:
0-90% non-condensing
Environmental protection rating:
IP54
Sheet speed:
Up to 150 m / min
Range of measurement:
±5mm (±0.2")
Resolution:
± 0.2mm (0.008") in center (at focus point)
Connection cables:
Standard 5 meter (16.5 feet) cable with straight connector to each Head.
Use only cables supplied by Innosen. Longer cables and cables with right angle connectors are available.
Max cable length should not exceed 10 meters (33 feet)
Permissible vertical sheet movement:
25mm (1") on the center position, 25mm (1") up from lower window
--------------------------------------------

Controller

Power supply:
+24 Vdc ±10% without loads.
1A inrush current
400 mA at +24V continuous current
25W Power rating
Temperature:
0 to 45°C (32 to 113°F)
Humidity:
0-90% non-condensing
Environmental protection rating:
Front face
Rear face when correctly mounted

IP54
IP20
Display:
2 lines 20 characters
Language:
English (default).
Other languages are available. See page 19 for further info.
Output:
Terminals on the rear of the controller
Reject output:
Pulse time 120 to 160 ms, max current 100 mA.
Tested at 100mA, 25°C, +24Vdc power supply,
ON-voltage < 2.8V

Warning output:
Max current 20mA.
Tested at 20mA, 25°C, +24Vdc power supply,
ON-voltage < 2.5V

Heartbeat output:
Pulse time 120 to 160mS, max current 20mA.
Tested at 20mA, 25°C, +24Vdc power supply,
ON-voltage < 2.5V

T2, T1 output:
Tested at 20 mA, 25°C, +24Vdc power supply,
ON-voltage < 2.5V
False reject:
< 1/50,000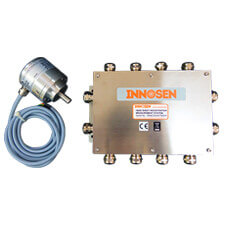 Adds protection against poor sheet registration by warning of sheet misfeeds at the coater.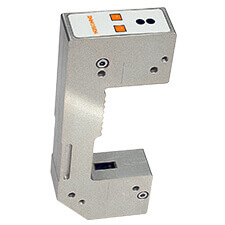 Adds protection against laterally displaced coating by detecting sheet misalignment at the coater.
Spain
Romà Piera i Arcal, 8
08330 Premià de Mar (Barcelona)
Spain
Main Multilanguage Tel:
+34 937 549 526
Alternative Direct Tel:
English: +44 1905 887845
Email: [email protected]
Hong Kong
11th Floor Dah Sing Life Building
99 Des Voeux Road Central
Hong Kong
Tel: +852 2127 0699
Philippines
808 Citystate Centre Building
709 Shaw Boulevard
1600 Pasig City
Philippines
Tel: +63 2 8696 6965 /
+63 2 8696 6978
USA
7691 N.Overland Trail
80524 Fort Collins
Colorado
USA
Tel: +1 970 305 8721
© 2021 Innosen. All rights reserved.