Sheet Registration Measurement Option
IS450
Adds protection against poor sheet registration by warning of sheet misfeeds at the coater
Add-on to the IS415 Skew Measurement System
Some sheets arrive either early or late to the coater if the infeed grippers don't catch the sheets properly.
The misplaced coating produced leads to waste and customer quality complaints.
By adding IS450 Sheet Registration Measurement to the IS415 Skew Measurement System, these problems can be kept to a minimum.
Process Improvement
Reduced Spoilage
Reduced Machine Downtime
Better Can Quality
High Speed Accuracy Allows 100% Inspection
Self-Adjusting and Self-Learning
User-defined reject limits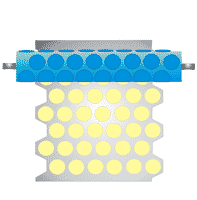 For skew, accuracy is better than 0.2mm (0.008″).
For registration accuracy is better than 0.1 mm (0.004").
For both, this accuracy is achieved at operating speeds of up to 9,000 sheets/hr. This allows 100% inspection of sheets at high speed.
If weld margins are not squarely aligned and registered properly, the chances of wire breakage at the welder and poor product quality will be significantly increased. By checking both squareness and registration, the main causes of downtime through weld wire breakage and customer complaint will be significantly reduced.
By ensuring correct alignment and timing of sheets entering the coater, can quality will be improved.
The IS415 combined with the IS450 option (see also the IS430 option) gives you all the tools you need for a comprehensive coating process improvement program. By cutting out the need for manual measurements and giving immediate feedback as sheets go through the roll, the IS415 / IS450 combined system enables:
Quicker changeovers
Reliable roll Alignment
Faster production rates without the risk of extra scrap
By continuously monitoring and analyzing data, as well as giving predictive warnings before problems occur, the IS415 / IS450 combined system helps:
Make effective process improvements
Promote better operator training
Increase plant efficiency
The Innosen IS415 Skew Measurement System can be upgraded with additional modules to provide complete coating placement monitoring system
Protects against poor coatings placement by detecting skewed (rotated) sheets at the coater. Unparalleled measurement accuracy with continuous data output and analysis also make the system a powerful process improvement tool … MORE
This upgrade module for the IS415 Skew Measurement System adds protection against 'translated' or laterally displaced coating by detecting sheet misalignment at the coater … MORE
Spain
Gran Via de Lluís Companys, 168- 1 – 2
08330 Premià de Mar (Barcelona)
Spain
Main Multilanguage Tel:
+34 937 549 526
Alternative Direct Tel:
Français: +33 1 76 64 12 87
English: +44 1905 887845
Fax: +34 937 549 687
Hong Kong
11th Floor Dah Sing Life Building
99 Des Voeux Road Central
Hong Kong
Tel: +852 2127 0699
Philippines
808 Citystate Centre Building
709 Shaw Boulevard
1600 Pasig City
Philippines
Tel: +63 2 696 6965
Fax: +63 2 696 6159