MISSING SIDE SEAM LACQUER DETECTOR
DETECTS MISSING LACQUER OR NON-LACQUERED GAPS ON THE EXTERNAL SIDE SEAMS OF 3PC CANS
Introducing Innosen's IS670 Missing Side Seam Lacquer Detector – the first in the industry.
This self-calibrating sensor quickly and accurately inspects the absence of external side seam lacquer on 3pc cans.
Missing lacquer on the side seam can cause corrosion, leakage, and customer complaints.
The sensor carefully monitors the side stripe — the lacquer on the can's side seam — by detecting any missing, incomplete, or non-lacquered gaps.
The IS670 works with all types of lacquers and can be installed optimally after the lacquering station or before the curing station.
It monitors the external side seams and sends a signal if any missing lacquer is detected, ensuring optimal product quality while avoiding costly production downtime and spoilage.
✅ Detects completely missing outer side seam lacquer as well as non-lacquered gaps on the side seam
✅ Detects twin welded can bodies (add-on feature)
✅ Helps avoid corrosion and can leakage
✅ Reduces can spoilage
✅ Protects product quality and brand reputation
✅ Eliminates customer complaints due to bad cans
✅ Fully automatic re-calibration
✅ No controller needed
✅ Corrosion-proof housing
✅ Circuit resistant to shock, vibration, and humidity
✅ Fit and narrow for convenient installation
✅ Provides reject signal if no lacquer is detected
✅ Gives heartbeat signal to ensure equipment is fully operational
✅ Configurable High and Low-Frequency Reject warnings for quality assurance metrics
| Specifications | |
| --- | --- |
| Dimension: | 40 mm x 120 mm x 90 mm |
| Minimum Lacquer Width: | 6 mm |
| Output Pulse Width: | 45 ms (default, configurable) |
| Max sideways and rotational movement: | 0.5 mm |
| Installation: | Best installed after the lacquering station or before the curing station |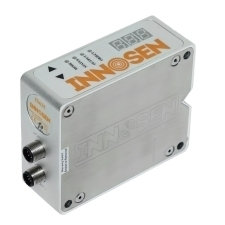 Detects wrongly oriented printed label or decoration, such as inverted or inside-out, in can bodies
Spain
Romà Piera i Arcal, 8
08330 Premià de Mar (Barcelona)
Spain
Main Multilanguage Tel:
+34 937 549 526
Email: [email protected]
Hong Kong
11th Floor Dah Sing Life Building
99 Des Voeux Road Central
Hong Kong
Tel: +852 2127 0699
Philippines
808 Citystate Centre Building
709 Shaw Boulevard
1600 Pasig City
Philippines
Tel: +63 2 8696 6965 /
+63 2 8696 6978
USA
7691 N.Overland Trail
80524 Fort Collins
Colorado
USA
Tel: +1 970 305 8721
© 2023 Innosen. All Rights Reserve.