Semi-automatic Enamel Rater
SI9100
Reduce measurement errors when checking lacquer integrity on cans and ends
High resolution electronics with advanced test monitoring features in a rugged waterproof casing
Quick, fail-safe semi-automatic operation
Built-in reliability
User-friendly
Supervisor control options for flexible data control
Internal batch reporting
Durable design gives value for money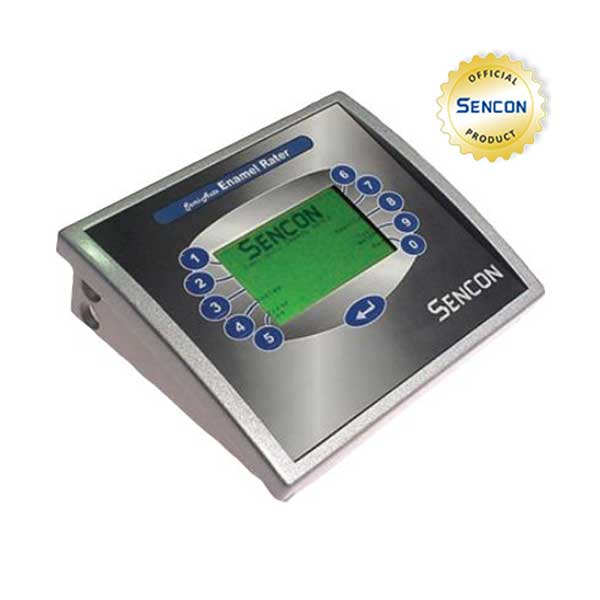 Sencon's Semi-automatic Enamel Rater checks lacquer integrity on cans and ends using the industry standard conductivity test. A small, safe voltage is applied between an electrolyte (conductive fluid) inside the can and the body of the can.
The amount of resultant current flow indicates the amount of metal exposure caused by any imperfections in the lacquer.
Quick, Fail-Safe Semi-Automatic Operation
Auto – start and auto – save functions eliminate button pressing for faster operation and more tests.
The gauge monitors insertion and removal of cans on the stand, starting and completing the test automatically.
The SI9100 monitors the electrolyte level and the body contact before and throughout the test, since a fault with either of these will create a "good" reading, regardless of the actual lacquer quality.
Soft touch keys assist accurate data entry. Multi – language support makes for quick and easy operation in different regions.
Supervisor Control Options
Help to combine practical and flexible operation with fully reliable results. Optional screen blanking during the test cycle prevents operators bypassing cans with high mA readings before the result is recorded.
Push – button batch and can number displays allow measurements to be grouped in batches. The internal computer will calculate batch statistics and send data to an externally connected computer in a variety of formats.
Durable Design Gives Value for Money
Recessed connectors with strain protection prevent damage. Corrosion – proof polyurethane casing and waterproof fascia designed to withstand the factory environment—rated to IP65—ensures maximum durability with minimal maintenance.
Spain
Romà Piera i Arcal, 8
08330 Premià de Mar (Barcelona)
Spain
Main Multilanguage Tel:
+34 937 549 526
Alternative Direct Tel:
Français: +33 1 76 64 12 87
English: +44 1905 887845
Fax: +34 937 549 687
Hong Kong
11th Floor Dah Sing Life Building
99 Des Voeux Road Central
Hong Kong
Tel: +852 2127 0699
Philippines
808 Citystate Centre Building
709 Shaw Boulevard
1600 Pasig City
Philippines
Tel: +63 2 696 6965
Fax: +63 2 696 6159