Light Tester for Easy Open Ends
100% LIGHT TESTING FOR LEAKS ON EASY OPEN ENDS ON THE CONVERSION PRESS
ELTP can normally be installed on any press that makes round food or beverage ends from 112 to 603 / 44.5mm – 153mm in size using belt pocket transfer. Other sizes and non-round shapes can also be considered for installation with specially designed adaptations.
Highly sensitive leak detection
By testing 100% of production on the press, the End Light Tester Package (ELTP) delivers a significant improvement in product quality for a low investment and with minimal disruption.
The latest models are equipped with next generation LEDs that deliver double the sensitivity of older models and four times the sensitivity of competitor systems. 
Experience shows that most types of end defect are detected, including leakers due to tears or pinholes in the panel, score and chuck wall, as well as split rivets. Clipped curl and compound blob defects can also be detected if they are large enough to affect the light seal around the end.
Real 5-micron capability

Quoted sensitivities for light-based leak detection systems typically refer to tests made under laboratory conditions. Competitor claims of "5-micron" capability are often based on pinholes in foil patches. These allow much more light to pass than laser cut holes in real end stock, which is what ELTP's 5-micron capability is based on. Sencon systems actually detect 1 micron pinholes in foil patches. Online capabilities on the conversion press will depend on the nature and location of defects and environmental factors. ELTP has been shown to out-perform comparable systems in the real world.
System always ready for testing
The latest models of ELTP are fitted which a special Flash Control feature which switches off the lighting arrays if the detectors are flooded with light due to very large holes, or because no end is in the pocket. This allows the detectors to recover in time for reliable testing of the end in the following pocket. Older versions of ELTP can be upgraded to take advantage of these improvements. Contact Innosen for details.
Non round and outsize ends
Systems for non-round and outsize ends are made to customer specifications. Mechanical installation packages available for most beverage end conversion presses. ELTP has also been successfully installed on food end conversion presses.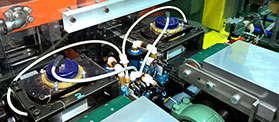 Hidden Leakers
Some flaws, such as rivet cracks under the tab, cannot be detected with light as they only open up under pressure. Sencon recommends using the sampling Micro Leak Tester (MLT) in conjunction with ELTP for all round protection.
Spain
Romà Piera i Arcal, 8
08330 Premià de Mar (Barcelona)
Spain
Main Multilanguage Tel:
+34 937 549 526
Alternative Direct Tel:
English: +44 1905 887845
Email: [email protected]
Hong Kong
11th Floor Dah Sing Life Building
99 Des Voeux Road Central
Hong Kong
Tel: +852 2127 0699
Philippines
808 Citystate Centre Building
709 Shaw Boulevard
1600 Pasig City
Philippines
Tel: +63 2 8696 6965 /
+63 2 8696 6978
USA
7691 N.Overland Trail
80524 Fort Collins
Colorado
USA
Tel: +1 970 305 8721
© 2021 Innosen. All rights reserved.