PROTECTS YOUR WELDERS FROM
CONTAMINATED MARGINS
The IS610 Plain Margin Inspector is designed to detect lacquer or other contaminants on the sheet margins that could result to damaged equipment, prolonged downtime, decreased productivity, broken weld wire, burnt weld rolls, poor weld quality and serious quality issues.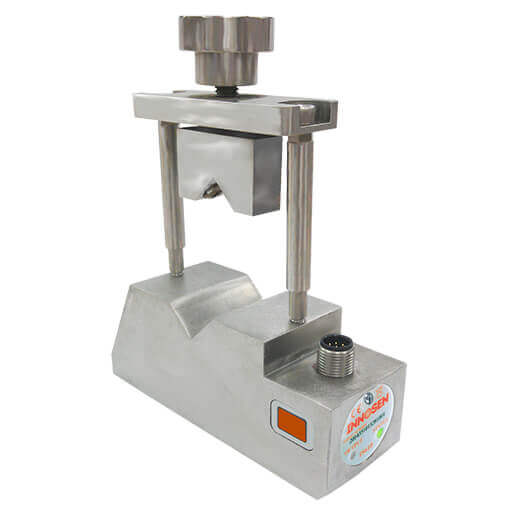 "Innosens Aussparungs-Überwachungs-Sensor detektiert effektiv Lack und andere Verschmutzungen, die ansonsten unsere Schweiβmaschine beschädigen würden.
Die gröβte Sorge die wir (abgesehen von gebrochener Schweiβnaht) haben, ist dass die Verschmutzung auf der Aussparung zu Schweiβdefekten führt, die letztendlich bis zum Kunden Auswirkungen hätten.
Schweiβfunken können während der Dosenformung zu Verbrennungen/Löchern führen, die sich als Leckagen in den Füllanlagen der Kunden bemerkbar machen würde.
Der IS610 verbessert die Schweiβqualität, die andernfalls durch Verschmutzung verschlechtert werden würde.
Der Sensor hat generelle Produktivität und Effizienz in den Anlagen erhöht, indem Ausfälle oder Verzögerungen durch solche Schäden reduziert werden konnten."
Felimon Dexter Chua
Made of stainless steel
Fits closely to the cutting roll to ensure maximum inspection of the sheet
Resistant to shock, vibration and humidity
Built-in alignment tool to make adjustments possible depending on the number of margins on the sheet
Special mounting kit for easy installation
Only ONE sensor is needed to detect up to 80% of the problems, as per customer testimonial
No additional external controller needed
Specifications

Response Time:
4 milliseconds or better
Minimum Lacquer Thickness:
2 g/m2 (depending on the lacquer)
Calibration:
Auto-calibration
No annual calibration needed
Dimension:
11.79 cm (4.64 in) width x 14.22 cm (5.6 in) height x 3.99 cm (1.57 in) length
Indicator:
Multi-colored status for good and bad sheet
Installation:
Special mounting kit for easy installation and adjustment close to the cutting roll
Detects
Lacquer on margin: Clear or colored
Contaminants: rust, grease, finger prints, watermarks, etc.
Misaligned margins

Spain
Romà Piera i Arcal, 8
08330 Premià de Mar (Barcelona)
Spain
Main Multilanguage Tel:
+34 937 549 526
Alternative Direct Tel:
Français: +33 1 76 64 12 87
English: +44 1905 887845
Fax: +34 937 549 687
Hong Kong
11th Floor Dah Sing Life Building
99 Des Voeux Road Central
Hong Kong
Tel: +852 2127 0699
Philippinen
808 Citystate Centre Building
709 Shaw Boulevard
1600 Pasig City
Philippinen
Tel: +63 2 696 6965
Fax: +63 2 696 6159