PROTECTS YOUR WELDERS FROM
CONTAMINATED MARGINS
The IS610 Plain Margin Inspector is designed to detect lacquer or other contaminants on the sheet margins that could result to damaged equipment, prolonged downtime, decreased productivity, broken weld wire, burnt weld rolls, poor weld quality and serious quality issues.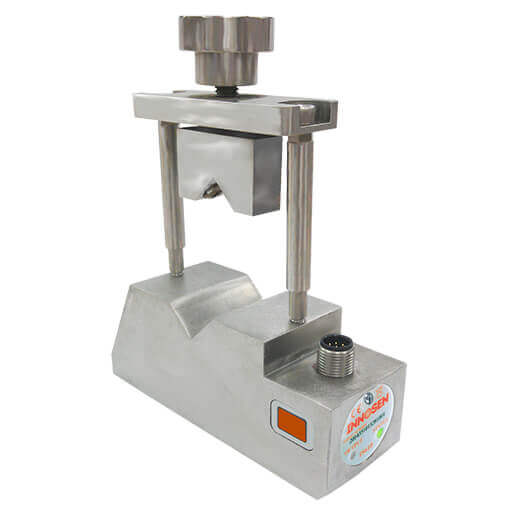 TESTIMONIAL DI UN CLIENTE
"Il sensore di ispezione della riserva di Innosen rileva efficacemente la vernice e altri contaminanti che possono potenzialmente danneggiare le nostre saldatrici.
La maggior preoccupazione che abbiamo (oltre alla rottura del filo) è che la contaminazione sulla riserva possa contribuire a dei difetti di saldatura che potrebbero giungere al cliente.
Le scintille della saldatura possono causare bruciature/fori quando viene formata la scatola, il che puó condurre a perdite sulle linee di riempimento del cliente.
L'IS610 ha migliorato la qualità della saldatura, che si degrada quando è presente la contaminazione.
Ha aumentato complessivamente la produttività e l'efficienza sulle nostre linee di produzione prevenendo i ritardi e i tempi di inattività causati dal danno"
Made of stainless steel
Fits closely to the cutting roll to ensure maximum inspection of the sheet
Resistant to shock, vibration and humidity
Built-in alignment tool to make adjustments possible depending on the number of margins on the sheet
Special mounting kit for easy installation
Only ONE sensor is needed to detect up to 80% of the problems, as per customer testimonial
No additional external controller needed
Specifications

Response Time:
4 milliseconds or better
Minimum Lacquer Thickness:
2 g/m2 (depending on the lacquer)
Calibration:
Auto-calibration
No annual calibration needed
Dimension:
11.79 cm (4.64 in) width x 14.22 cm (5.6 in) height x 3.99 cm (1.57 in) length
Indicator:
Multi-colored status for good and bad sheet
Installation:
Special mounting kit for easy installation and adjustment close to the cutting roll
Detects
Lacquer on margin: Clear or colored
Contaminants: rust, grease, finger prints, watermarks, etc.
Misaligned margins

Spain
Romà Piera i Arcal, 8
08330 Premià de Mar (Barcelona)
Spain
Main Multilanguage Tel:
+34 937 549 526
Alternative Direct Tel:
Français: +33 1 76 64 12 87
English: +44 1905 887845
Fax: +34 937 549 687
Hong Kong
11th Floor Dah Sing Life Building
99 Des Voeux Road Central
Hong Kong
Tel: +852 2127 0699
Filippine
808 Citystate Centre Building
709 Shaw Boulevard
1600 Pasig City
Filippine
Tel: +63 2 696 6965
Fax: +63 2 696 6159