MEASURES FLAT SHEET'S COATING THICKNESS WITH WORLD CLASS R&R
The IS9651 Hoverprobe II is the latest and improved version of the pioneering IS9650 equipment for coating thickness measurement. It is used with the SI9600 Coating Thickness Gauge to test the coating, lacquer, and varnish thickness of flat sheets.
It boasts several major upgrades that enhance its overall durability, ease of use, and versatility.
THE MAJOR UPGRADES:
More Robust Cable Design: With enhanced durability, resistance, and protection against cuts and damages.
Redesigned Probe Tips: Easier and quicker to replace, with a handy extraction tool and reduced settling time after replacement
Improved Metal Base: Increased durability and high resistance to scratches
New Measurement Method (optional): Utilizing the metal base as a second probe, eliminating the need for a crocodile clip, and preventing damage to sheets
Reduced Maintenance: Improved internal wear parts, minimizing issues with overpressure

HOW IT WORKS:
With a simple press of a button, it suspends lightly on a cushion of air to easily hover the probe around the coated blanks.
When the button is released, the Hoverprobe's weight settles on the sheet, allowing the probe tip to measure the coating thickness rapidly and accurately.
REMEMBER: Gauge R&R or gauge repeatability and reproducibility is important in measuring coating thickness because it shows which part of the measurement system is contributing the most to the variation of the measurements, therefore giving the operators ideas on how to ensure quality and cost control.
✅ Fast and accurate measurement of lacquer thickness
on flat sheets
✅ Highly repeatable readings for consistent quality control
✅ Improved product design for reduced maintenance costs
✅Improved long-term R&R by eliminating internal friction elements
✅Enables lacquer thickness control, sheet quality control, and
lacquer cost control
✅ Allows for coating roll alignment adjustments, ensuring
accurate and consistent results
✅ Improved probe tips for quick replacement
✅ Robust cables with better connection instead of banana plugs
✅ Stronger and scratch-resistant metal base
✅ Option to connect with the sheet without using the
crocodile clip
✅ Faster settling time
✅ Improved internal wear parts reducing maintenance and
issues with overpressure
Specifications

Used with:
SI9600 Coating Thickness Gauge
Air supply:
Maximum 6 bar (87 psi)
Use a filter/regulator with auto-drain for removing scale and water/oil.\
Shut-off valve recommended
Filter to 5 μm, volume typical 75 dm3/s
The use of dry clean air will give it the best life
Dimension:
170mm (6.7") height, 132mm (5.2") diameter
Mass Weight:
8 kg

Repeatability:
R&R typically <10%
Warm up time:
Not required
SI9600 Film Weight Gauge part number:
390-06900-00
IS9651 Hoverprobe II part number:
395-51800-00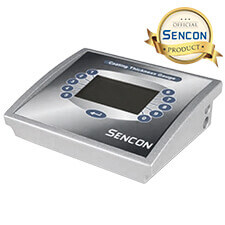 The coating thickness gauge rapidly and accurately measures the coating thickness/film weight.
Spain
Romà Piera i Arcal, 8
08330 Premià de Mar (Barcelona)
Spain
Main Multilanguage Tel:
+34 937 549 526
Email: [email protected]
Hong Kong
11th Floor Dah Sing Life Building
99 Des Voeux Road Central
Hong Kong
Tel: +852 2127 0699
Philippines
808 Citystate Centre Building
709 Shaw Boulevard
1600 Pasig City
Philippines
Tel: +63 2 8696 6965 /
+63 2 8696 6978
USA
7691 N.Overland Trail
80524 Fort Collins
Colorado
USA
Tel: +1 970 305 8721
© 2023 Innosen. All Rights Reserve.