What are Double Sheets and Why Should You Guard Against Them?
by Niña Munoz, Marketing Executive
Published: June 18, 2019
Double production time, double cost and double headaches — these are just a few of the troubles the word double may indicate in the can making world. The reason why the word double has a bad reputation in production is mostly because of the existence of double sheets. These are metal sheets that stick together in one of the stages of production. If two or more metal sheets pass through a processing machine, it could lead to serious problems in the tooling and product quality.
Where do double sheets happen?
1. Before entering the coater
A large unlacquered coil is cut into smaller sizes called sheets. These sheets are then transported to the coater for lacquering. To be transported, sheets have to be stacked and lifted up through suction cups, which use vacuum to keep air pressure on the sheets. However, sheets may sometimes stick together because of the sucking mechanism that takes places during the sheet transfer.

Two possible double sheet formations from the transfer process:
I. Sheets that are stuck together and do not separate before entering the coater become totally overlapped double sheets.

Once totally overlapped double sheets enter the coater, the sheet on top will be fully lacquered while the sheet underneath will be left totally unlacquered.
Possible damage: Double sheets with one sheet not fully lacquered could lead to corrosion when formed into a can. Double sheets can also cause problems in seaming, resulting in torn flanges, droops, vees and other serious seaming problems.
Double Sheets to Double Cans
Metal sheets are also used to form the ends of the cans. The end making process is slightly different to how body blanks are made. Coils are cut into sheets; sheets are cut into circular shapes, details are added and finally seamed to the body blank.
It is important to note that double sheets also ruin the quality of ends, leading to the formation of double ends. Double ends are classified as a serious container defect (Canadian Food Agency). Double ends also cause seaming problems.
II. Double sheets formed during the transfer phase may still separate from each other while they are being released to the conveyor. However, it is almost impossible for the underneath sheet to fall onto the right place because of the fast transport operation to the conveyor belt.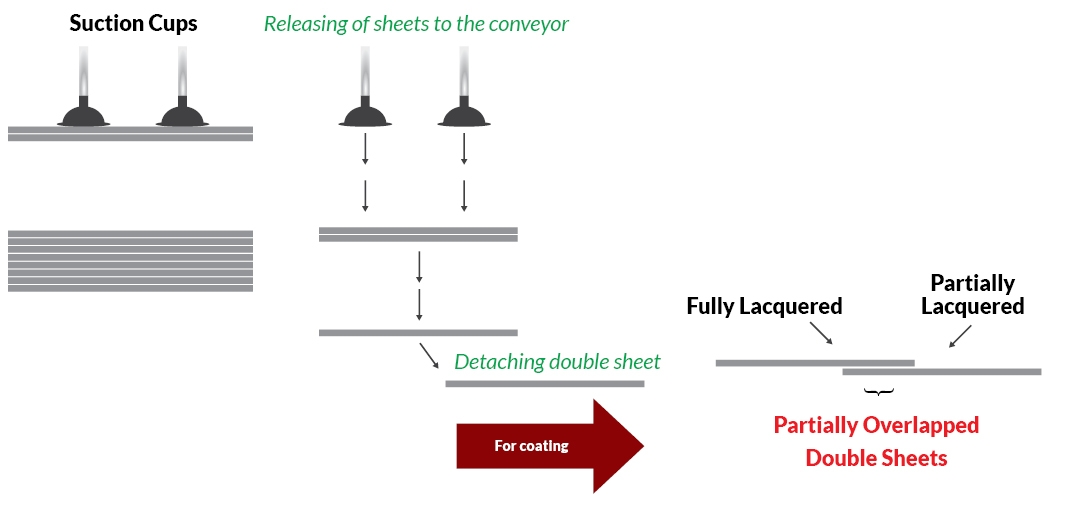 In this case, the sheet underneath detached from the top sheet with the top sheet partially overlapping the other. This will then result in the sheet underneath to be partially lacquered.
Possible damage: A partially lacquered sheet formed into a body blank eventually leads to corrosion if left undetected.
Aside from the lacquer being applied and cured in cans, inks/prints outside the can are also applied and cured before the sheets are formed into body blanks. When an unlacquered sheet enters the printing machine, there's no way the ink will stick on the metal because the lacquer serves as the ink's adhesive. An undetected unlacquered sheet may cause the print to be ruined, leading to spoilage and customer complaints. No can filler will accept ruined brand labels.
2. BEFORE CURING / PRINTING

The next process after coating is curing. This is when lacquered sheets go into a thermal oven to dry. Undetected double sheets entering the curing oven may not cause damage at this point but it is a MUST detect the unlacquered sheet before it goes to the slitter. If double sheets are not detected after curing, double blanks will be formed. Aside from double blanks, undetected unlacquered sheets that are formed into cans could result in corrosion. This will contaminate the food, cause extra expenses due to spoilage and ruined reputation/customer complaints.

 *Blanks – These are metal sheets that have been cut into smaller rectangular pieces.
*Body blanks – These are formed cylindrical cans without ends.
Possible damage: Double blanks blunt the body welder machine since thicker metals have to be processed. The inside of the can will also be unlacquered when double blanks are formed. This could cause serious problems like corrosion, food contamination and customer complaints. Double body blanks are the main cause of problems in seaming. It causes body buckling because the outer body will bend. The side seam of the can may also appear mislocked or incompletely soldered.
How double sheets are formed before curing?
Double sheets may be formed before curing when sheets collide onto the conveyor where the sheets are lined to go into the oven. This is because of the errors in the syncing of the conveyor and the wicket.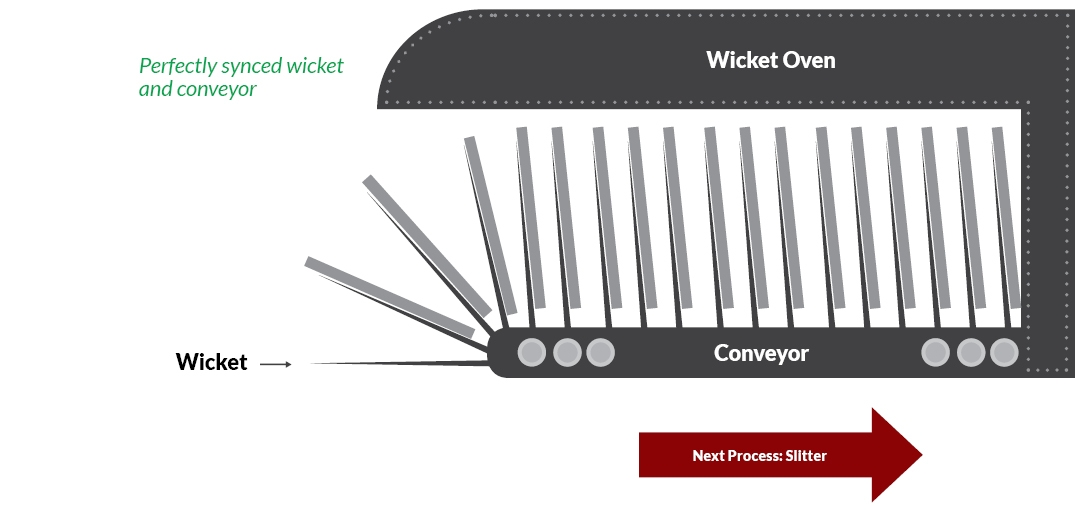 After being coated, a sheet will line up to be picked up by the wicket for curing. However, a sheet may sometimes hit the wicket, causing the sheet behind it to go underneath it. This happens because of the improper syncing of the wicket and the coater, which could result in the formation of double sheets.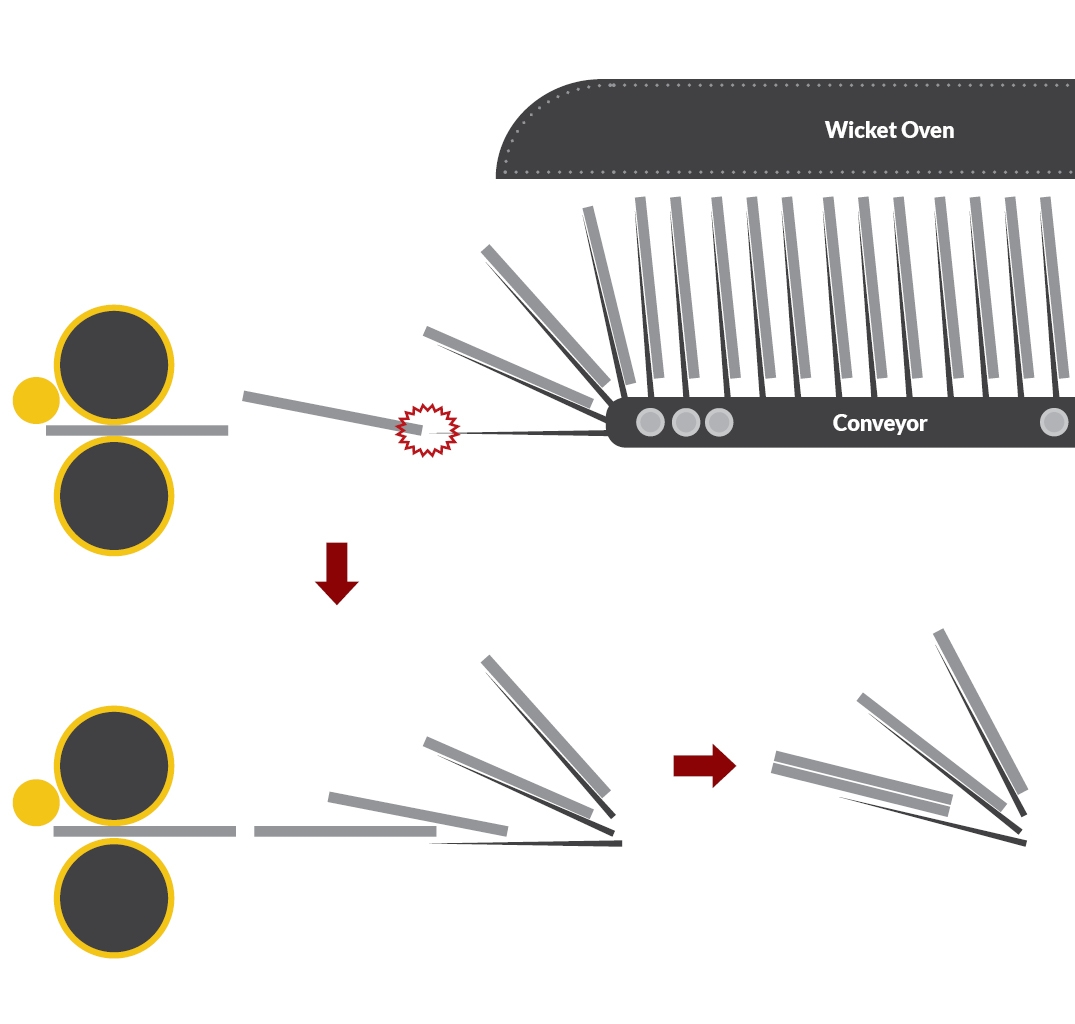 After being coated, a sheet will line up to be picked up by the wicket for curing. However, a sheet may sometimes hit the wicket, causing the sheet behind it to go underneath it. This happens because of the improper syncing of the wicket and the coater, which could result in the formation of double sheets.
Problems in the production have already been foreseen by can makers. For many years, different solutions have been devised to counter these problems, especially for double sheets. Although inevitable, double sheets are easily detectable.
There are a lot of double sheet detectors available in the market but not all are accurate, reliable and provides real time detection. What can makers should always look out for is something that is:
Easy to install and easy to use – Double Sheet detectors protect from double sheets, however, almost all of them need to be adjusted several times in a shift, increasing the risk for human errors and wrong settings. They require time-consuming adjustments after every changeover, wasting more production time, thus lesser profit.
Most double sheet detectors need to be manually calibrated. Calibration is time consuming and requires downtime. It 's practical to have an easy-to-install detector with automatic calibration feature for can makers. There's only one that offers straightforward installation, allowing users to focus on more important matters.
Check out: Innosen's Double Sheet Detector IS231
• Protects production against double sheets without requiring any operator adjustments
• With fully automatic calibration and self-adjusting features, eliminating time-consuming detector adjustments
during changeovers
Flexible and durable – While double sheet problems cause can makers a lot of fortune, some double sheet detectors can also cause double expenses. Some of the sensors being offered today require the use of a controller or a need for different sensors for different metal types and thicknesses. These controllers contribute to extra costs because these are extra parts that need to be purchased before the double sheet detector could work.
A good double sheet detector must have a wide detection range to cater to different metal thickness and withstand the harsh environment of the production line. Innosen's Double Sheet Detector IS231 is more than capable to do that, as a matter of fact, it has been the best tool for protection against double sheets for over 20 years now.
Reliable, accurate and efficient – A reliable double sheet detector always provides correct signals. It doesn't need human intervention to function properly as it works on its own, adjusts on its own and recalibrates on its own even after a period of inactivity. With the detector's 'heartbeat signal' feature, can makers are guaranteed that the sensor is still working, no matter how long ago it was installed. It also has the fastest response time of 3 milliseconds in the market!
Do not settle for less, choose the best!

Spain
Romà Piera i Arcal, 8
08330 Premià de Mar (Barcelona)
Spain
Main Multilanguage Tel:
+34 937 549 526
Alternative Direct Tel:
English: +44 1905 887845
Email: [email protected]
Hong Kong
11th Floor Dah Sing Life Building
99 Des Voeux Road Central
Hong Kong
Tel: +852 2127 0699
Philippines
808 Citystate Centre Building
709 Shaw Boulevard
1600 Pasig City
Philippines
Tel: +63 2 8696 6965 /
+63 2 8696 6978
USA
7691 N.Overland Trail
80524 Fort Collins
Colorado
USA
Tel: +1 970 305 8721
© 2021 Innosen. All rights reserved.