UPGRADES FOR CAN BODY LIGHT TESTERS
ULTP – Universal Light Tester Package
HIGH SPEED DETECTION OF PINHOLES, SPLIT FLANGES AND CRACKED DOMES
Sencon light testers, which are commonly supplied on all the latest neckers, provide high-speed light detection of:
pinholes
split flanges
cracked domes
Rejection rates of 100% are achieved on cans with 0.002 inch (0.05 mm) pinholes. Cans are rejected by an air jet on the can guide controlled by Sencon's high-speed solenoid driver technology.
LED lighting offers low maintenance, high-performance illumination, and solid state sensors detect leaks using the latest silicon light detectors for robust and trouble-free operation.
* Fitted on latest OEM neckers and light testers worldwide
* Existing quartz-halogen systems can be upgraded with an LED lighting array
✅ Improved reliability and stability
✅ No degradation of sensitivity over time (single solid-state electronic detector)
✅ Reduced maintenance and running costs
✅ Increased speed capability—3600cpm
✅ Improved machine information
✅ Fault diagnostic facilities
✅ All kinds of cans accepted, including bottle cans
✅ Easy set-up and operation
"Flash Control™"
for improved system efficiency
Sencon's Flash Control™ is an ultra-high speed, closed loop feedback between the detectors and the illumination pack. If a damaged can or an empty pocket floods the system with light, Flash Control™ immediately switches off the illuminators to prevent the detectors from being blinded. This means the detectors don't need to wait to recover before inspecting the next can.
Updates for single detector can light testers
Analog photomultipliers are prone to degrade over time, requiring constant adjustment or regular replacement. Photomultipliers are found on some single detector light testers (such as Reynolds RT5 or RT6*). Sencon can replace them with a solid state electronics pack and a simplified lighting system.
This delivers greater stability with equivalent detection levels and no need for regular adjustments as the light detector does not become less sensitive over time.
Maintenance is minimized as lamp replacement and cleaning of the detector lens are the only scheduled tasks. Existing quartz-halogen systems can be upgraded with an LED lighting array and a more sophisticated detector system.
*Reynolds RT5 and RT6 trademarks are owned by the Stolle Machinery Company LLC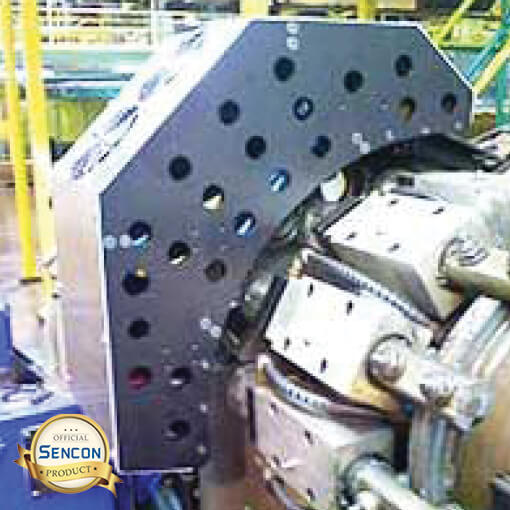 High-intensity halogen lamps, which are supplied as standard on older installations, have proved to be simple and reliable. However, LEDs are better matched to the sensitivity of the detectors than broad-spectrum halogen light.
Installing an LED lighting array improves the sensitivity of the system.
Using solid-state LED lighting should also reduce the frequency of maintenance required, further minimizing downtime. Built-in reflectors ensure that illumination is evenly distributed around the can, removing any need for an infeed lamp.
The LED lighting array is available in 3×3 or 3×4 configuration, which allows greater flexibility with different can sizes.
✅ Increased detection sensitivity to find smaller defects
✅ Reduced maintenance frequency – further minimizes downtime
✅ 30% reduction in energy by lamps
✅ Flash control to avoid the sensor being swamped by excess light from a defective can
✅ No need for infeed lamp
PLEASE NOTE: The LED upgrade requires the host ULTP system to be brought up to the latest specification. For most systems this represents a major overhaul. A range of options is available for the LED upgrade, depending on the system already installed. Contact Innosen for details.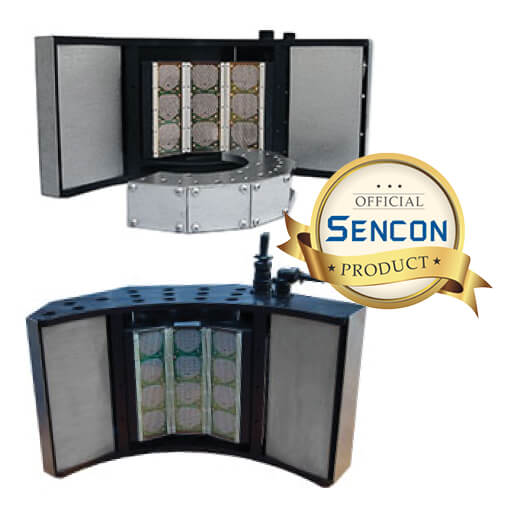 Spain
Romà Piera i Arcal, 8
08330 Premià de Mar (Barcelona)
Spain
Main Multilanguage Tel:
+34 937 549 526
Email: [email protected]
Hong Kong
11th Floor Dah Sing Life Building
99 Des Voeux Road Central
Hong Kong
Tel: +852 2127 0699
Philippines
808 Citystate Centre Building
709 Shaw Boulevard
1600 Pasig City
Philippines
Tel: +63 2 8696 6965 /
+63 2 8696 6978
USA
7691 N.Overland Trail
80524 Fort Collins
Colorado
USA
Tel: +1 970 305 8721
© 2023 Innosen. All Rights Reserve.