End Adapter for Enamel Rater
IS9020TM / IS9019
For checking of metal exposure on ends
Maximum Ease of Use
Durability
Maximum Reliability of Results
Flexibility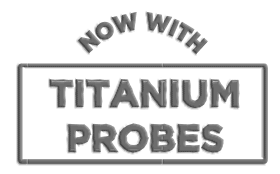 IS9020TM Standard End Adapter for 202 (52mm) – 603 (153mm) diameter ends
IS9019 Large End Adapter for 202 (52mm)* 903 (230mm) diameter ends
With easy-to-change top plates, The IS9020TM / IS9019 can test a wide range of ends, caps and sheets.
*Note: The larger end adapter can be used for smaller ends with a change of top plate but the smaller end adapter cannot be used with larger ends.
EASILY TEST DIFFERENT END TYPES USING MAGNETIC TOP LIDS
Shift from testing one size of ends, caps and sheets to another — quick and easy. No knobs, no screws, no more difficult conversions. IS9020TM comes with magnetic top plates, making it easy to change when measuring other types of ends, caps or sheets. It allows different metal packaging products to be tested, without the lengthy and strenuous process of conversion and setup every time.
SEMI-AUTOMATIC OPERATION
The moment contact is established, vacuum is automatically turned on.
TITANIUM PROBES
The IS9020TM has Titanium probes, providing superior corrosion résistance. It allows the device to test more products for a longer period of time. It also assures you that the device won't easily falter or suffer from damage.
The IS9020TM is made of parts that can withstand the harshest laboratory setting
Maximum Reliability of Results
SELF-CHECKING OF ELECTRICAL CONTACTS BEFORE EVERY TEST
Bad contacts with the metal substrate could result to unreliable readings. The unique contact checking feature will disable the test until a good contact with the metal substrate has been established.
AUTOMATIC VOLTAGE COMPENSATION
Ensures that constant amount of voltage is applied to ends under test by regulating test voltage. This results to increased accuracy and repeatability.
Simply changing the top plate allows for testing of all these different types of ends and caps including:
Round
Rectangular or oval such as: FAEO Key-open End, Hansa, Dingley, Club
Aerosol Cans: Cones and domes
PT Caps: There are too many variants to list, but virtually all PT caps can be tested, including luged caps
IS9021 Vacuum Generator
IS9023 Automatic Vacuum Control Unit
To secure the top lid during testing, a vacuum device is necessary to suck out the air from inside the device. The optional IS9023 upgrade provides Automatic Vacuum Control to the IS9020TM. It has a water separator feature that automatically separates water from air in case that water is sucked into the vacuum. It also provides a filter regulator that allows the user to control amount of pressure exerted by the device, based on their preferred level.
Spain
Gran Via de Lluís Companys, 168- 1 – 2
08330 Premià de Mar (Barcelona)
Spain
Main Multilanguage Tel:
+34 937 549 526
Alternative Direct Tel:
Français: +33 1 76 64 12 87
English: +44 1905 887845
Fax: +34 937 549 687
Hong Kong
11th Floor Dah Sing Life Building
99 Des Voeux Road Central
Hong Kong
Tel: +852 2127 0699
Philippines
808 Citystate Centre Building
709 Shaw Boulevard
1600 Pasig City
Philippines
Tel: +63 2 696 6965
Fax: +63 2 696 6159